In today's competitive, challenging and time-crunched business environment, getting you the knowledge you need to make insightful decisions is crucial. To meet this critical requirement, Gray Insight offers the tools, knowledge, business acumen and experience necessary for you to make the right decisions for your business. Gray Insight will help you move your business forward by letting you clearly see what matters to your customers, to get your arms around the action you need to take and to hear what you need to do to maximize your market potential.

We believe that insightful business decision making goes beyond the data by highlighting the core business issues and uncovering the market structure that drives your business, resulting in meaningful conclusions and trustworthy recommendations.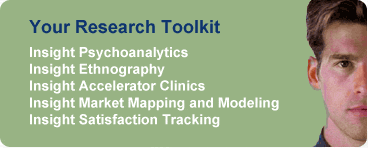 "Gray Insight delivers the most outstanding service of any research company we've ever worked with. Not just numbers, but real insight into complex business issues."
Chad Ellison, CEO